Hey, what can I say more about our corner of Queensland!
A couple of weeks ago the perfect opportunity arose for us to pop over to the Gold Coast. The humidity was high and it was going to be a scorcher of a day! We had visitors with us , from the UK and there was nothing better than to take them to the iconic Surfers Paradise.  It would certainly stop them from expiring! We were staying up on Mount Tamborine for the week and could see the coast line from our accommodation.  Even though the sea was a long way away, it has a habit of calling our family to visit it over and over!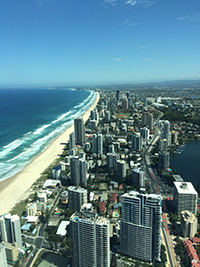 It was a barmy late summers day with temperatures in the mid 30's and the water around 27 degrees. There was no excuse and what better way to keep cool and experience some gentle sea breezes.
The morning was spent hanging around the beach, catching some waves on our body boards and just relaxing in the summer sun.  The rip was a little strong to go to far out, but it was enough to get cool, play jumping over the surf with the kids and just enjoy this amazing place we live in.  We had recently bought a CoolCabanas and wanted to try it out along with our normal beach tent, which also proved a great success!
Can you improve on the endless beaches, space for everyone and plenty of cafes?  Well, there is one way – a visit to the 77th floor of the Q1 building, which is Australia's tallest residential building. Not only do you get outstanding views, but you can enjoy a great meal at the same time. Obviously it really depends on what you love, but being able to see endless beaches and great mountain views while you eat, ticks the boxes for me.  It costs about $60 for a family of 4, but worth it (better than going up the Sydney Eye in my opinion !)
The afternoon was spent looking in a few shops along the sea front and then back to where we were staying that week.
We will return to Q1 again and again, I am sure of it.